Chalmers Medal
Eligibility and nominations
Nominations next open in May 2021
The medal is awarded annually to researchers in tropical medicine or international health, anywhere in the world, who obtained their last relevant qualification between 15 and 20 years ago, allowing for career breaks.
Applications must show evidence of mentoring of junior investigators, and evidence of providing professional development to junior investigators.
Fellows or members of RSTMH can nominate another fellow or member, or themselves, for the RSTMH Chalmers Medal.
Self-nominations must be accompanied by a supporting statement from an RSTMH Fellow or member.
2020 Chalmers Medal recipient: Dr Katharina Kranzer
2020's Chalmers Medal recipient was Dr Katharina Kranzer, a Clinical Associate Professor in Infectious Disease Epidemiology at the London School of Hygiene & Tropical Medicine (LSHTM) and Honorary Clinical Consultant Microbiologist at the University College London Hospital.
She is based in Zimbabwe where she is leading a research programme focused on infectious diseases specifically tuberculosis, HIV and antimicrobial resistance. Currently, Dr Kranzer is supporting laboratory capacity building and is a mentor for the Fleming fellows in Zimbabwe. She also has been actively involved in the national COVID-19 response.
Between 2015 and 2018 Dr Kranzer directed the National and WHO-Supranational Tuberculosis Reference Laboratory in Germany with a strong mandate for laboratory capacity building, mentoring and training in partner countries in Eastern Europe and Central Asia.
Prior to that, she completed her clinical specialist training in London, conducted her PhD research focused on TB control in high HIV prevalence settings in South Africa and worked on HIV-related research in Northern Malawi.
"Seeing somebody bright, capable and hardworking succeed and contribute to that journey is hugely exciting and extremely rewarding. I feel honoured that I have contributed to supervision and mentoring of some brilliant scientists, laboratory managers, technicians, and clinicians."

Dr Katharina Kranzer
History and prize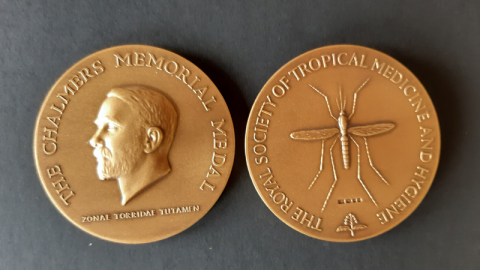 Dr Albert John Chalmers, MD, FRCS, DPH was born in Manchester in 1870 and began his distinguished tropical career in Ghana where he worked from 1897 to 1901.
He spent the following ten years in Sri Lanka before becoming a Holt Fellow of University College, Liverpool. From 1913 to 1920 he was Director of the Wellcome Research Laboratories in the Sudan. He died in Calcutta on 5 April 1920.
In 1921, Mrs Chalmers, his widow gave £500 to RSTMH in memory of her husband. The RSTMH Council decided to devote this money to the foundation of the Chalmers Memorial Medal.
The Chalmers Medal recognises researchers in tropical medicine or global health who demonstrate evidence of mentoring and professional development of junior investigators, and other forms of capacity-building.
These skills are in line with Dr Chalmers' own values of supporting the work of younger researchers. Dr Chalmers was known for being ready with help and encouragement to those early in their careers.
Recipients recieve a medal, which is in silver gilt, and bears a likeness of Dr Chalmers and the motto Zonae torridae tutamen on one side, and the other side is a representation of Anopheles gambiae above a spray of the cinchona plant and encircled by the name of the Society.