Sir Rickard Christophers Medal
Nominations for the 2021 Medal are now closed
The Sir Rickard Christophers Medal is to recognise outstanding work in tropical medicine and hygiene, and evidence of practical and field applications.
The Medal is for senior experts in their field.
Eligibility and nominations
Nominations for the 2021 Sir Rickard Christophers Medal are now closed.
Nominations are every three years
Nominations are open to anyone working in tropical medicine
Nominations must provide evidence of outstanding work in tropical medicine and hygiene, and evidence of practical and field applications
Nominations are invited from RSTMH members and Fellows ONLY
Nominees should be RSTMH members or Fellows ONLY
History and prize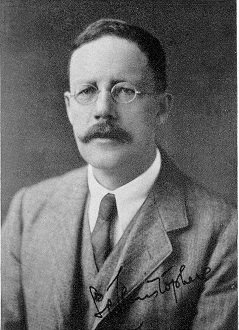 Sir Rickard Christophers was President of the Society between 1939 and 1943.
From 1898, when he was appointed member of the Malaria Commission of the Royal Society, to 30 years working in India and another three decades of work in London and Cambridge, Sir Rickard's contribution to many branches of medical and other sciences was immense.
The impact of his studies on malariology and entomology was deep and lasting; his fundamental investigations of the pathology, immunology, epidemiology and control of insect-borne diseases made him a true "compleat scientist" of our age.
Sir Rickard died in 1978, aged 104, after a lifetime spent in the relentless and inspired pursuit of knowledge.
The Royal Society of Tropical Medicine and Hygiene decided to commemorate the life and achievements of Sir Rickard by endowing a medal.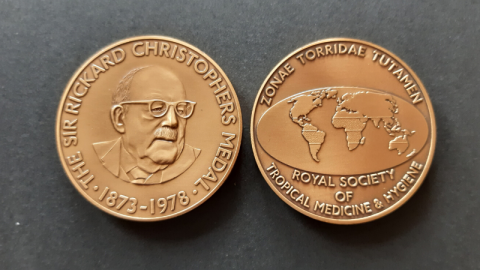 The Sir Rickard Christophers Medal is awarded for work in tropical medicine and hygiene in its broadest sense and in particular for practical and field applications.
The medal, which is in bronze, bears the likeness of Sir Rickard on the obverse and on the reverse bears a geographical representation of the tropics with the Society's motto Zonae torridae tutamen.
2018 Sir Rickard Christophers Medal recipient: Professor Bridget Wills
The Sir Rickard Christophers Medal was last awarded in 2018 to Professor Bridget Wills. She is the first female recipient of this award.
Professor Wills has developed a world-leading research programme on dengue, spanning clinical to epidemiological research, on a wide range of aspects of treating and controlling dengue.
Her work has helped our understanding of the epidemiology and best methods of control for dengue, particularly in the south of Vietnam. She has provided support for Wolbachia trials and, more recently, taken part in research considering the logistical challenges in implementing a dengue vaccine programme.
She has supervised numerous researchers and provides unwavering support and clear, constructive guidance. She has particularly supported Vietnamese clinicians as they combine clinical and research work and provided them with the opportunities to become successful clinical researchers.
Professor Wills is keen to support women in science, providing sponsorship and opportunities for individuals to further their career.