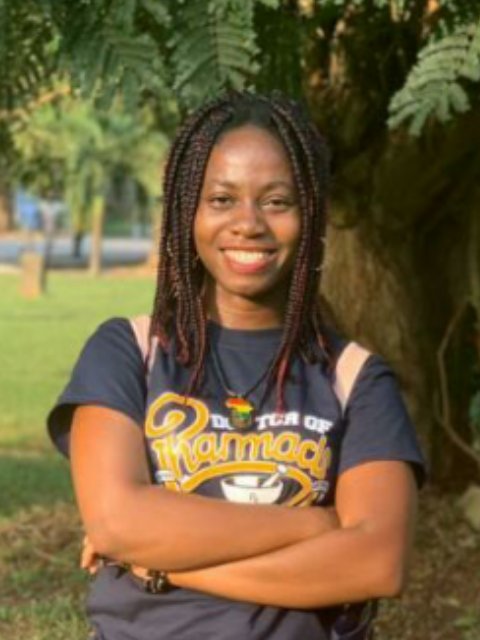 Emmanuella Nzeribe
Pharmacy Student, RSTMH Student Ambassador
Emmanuella Nzeribe is a Nigerian final year Doctor of Pharmacy (PharmD) Student at the Kwame Nkrumah University of Science and Technology, (KNUST) Ghana, where she serves as the RSTMH Student Ambassador. KNUST, has been adjudged as the best university in Western Africa It is the largest public university established in the Kumasi Metropolis in the Ashanti region, dedicated to nurturing global leaders, advancing research.

Ghana has advanced much in terms of healthcare, however, there are still huge gaps when it comes to achieving Universal Health Coverage (UHC) in the country. There are still issues of Neglected Tropical Diseases (NTDs) as well as social inequalities in the rural areas of the country. This calls for improved research, policies and strategies to achieve the various targets of Sustainable Development Goal 3.
As an undergraduate, Emmanuella is passionate about research and development in NTDs, and improving the African healthcare systems by championing health literacy to the masses. She is also drawn to discussions pertaining to Global Health, Climate Change, Youth Education and Policy. She is invested in everything African Renaissance and Nation Building; creating solutions to the very real challenges on the continent - she is an advocate for creating a better healthcare system for posterity. Her interest in NTDs, Youth Education and Policy have given her opportunities to speak on youth panels as well as influence policy on behalf of her school. She has written and published over 20 articles and award winning abstracts with the sole aim of advancing knowledge, scientific research, healthcare and the African Renaissance.
As well as being an RSTMH Student Ambassador, she also works as the African Regional Office's Relations Officer of the International Pharmaceutical Students Federation (IPSF) which covers over 350,000 Pharmacy and Pharmaceutical Sciences students as well as recent graduates from over 80 countries. She supports the Federation with internal and external relations in addition to growing the Federation through growing its membership. As an RSTMH Student Ambassador, she is committed to enhancing public awareness of RSTMH and its strategy on advancing the Global Health agenda. RSTMH has given her the platform to learn, network and advance her career. Apart from research, Emmanuella enjoys travelling, observing nature and listening to great music.