RSTMH Annual Meeting 2021 – drug resistant infections: causes, consequences and considerations
11–12 October 2021
Virtual event
Registration is now open!
Our 2021 Annual Meeting will bring together RSTMH members and supporters from around the world to share knowledge from the forefront of the fight against drug resistant infections and encourage new connections and collaborations.
This meeting will cover a wide range of topics within the drug resistant infection (DRIs) space, including:
analysis of the drivers of AMR
antimicrobial resistance surveillance
antimicrobial stewardship implementation
antimicrobial usage monitoring in agricultural settings
considerations for successful AMR policy implementation
sessions will take the form of keynotes presentations, seminars from experts in the field, turbo talks, and panel discussions with an emphasis on audience interaction.
Speakers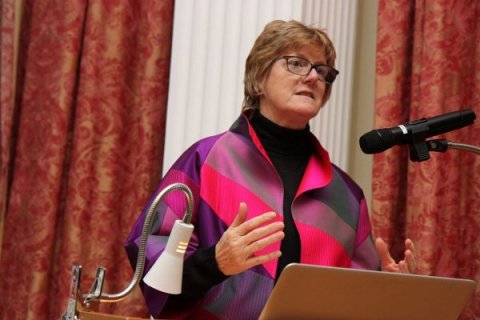 Speakers confirmed so far include:
Céire Costelloe, Reader in Digital Health and Statistics & NIHR Career Development Fellow, Director of Global Digital Health Unit, Imperial College London
Sally Davies, UK Envoy on Antimicrobial Resistance
Jyoti Joshi, Head of South Asia, Center for Disease Dynamics, Economics & Policy (CDDEP)
Claas Kirchhelle, Lecturer History of Medicine, University College London
Rebecca Lester, Wellcome Trust Clinical PhD Fellow, Liverpool School of Tropical Medicine
Mashkoor Mohsin Gilani, University of Agriculture, Faisalabad, Pakistan
Mirfin Mpundu, Director, ReAct Africa
Jim O'Neill, Chairman, Review of Antimicrobial Resistance
Marcelo Pilonetto, State Laboratory for Public Health, Department of Health Assistance and Surveillance, Secretary of Health, Curitiba, Brazil
Adam Roberts, RSTMH Policy Adviser on drug resistant infections and Scientific Chair, Liverpool School of Tropical Medicine
Katy Turner, Managing Consultant, Aquarius Population Health
George Varghese, Professor and Head of the Department of Infectious Diseases, Christian Medical College Vellore
Ghada Zoubiane, Head of Partnerships and Stakeholder Engagement, International Centre for Antimicrobial Resistance Solutions (ICARS)
More speakers will be announced shortly here and through our newsletter.
Programme
(subject to change)
There will be networking and member sessions throughout the two days, more details to be released.
Day one
Keynote lecture
Sally Davies, UK Envoy on Antimicrobial Resistance
Presentations on impact from implementation of policy frameworks and interventions
Different considerations will be presented by experts from different One Health sectors
Turbo talks
A series of five-minute presentations selected from submitted abstracts from early career researchers
Progress after the AMR Review
An interview with Jim O'Neil, Chairman, Review on Antimicrobial Resistance
Panel session: The future funding landscape for drug resistant infections?
Key stakeholders discuss funding, challenges and opportunities for future research priorities
Day two
Turbo talks
We continue with short presentations chosen from the submitted abstracts from early career researchers
Experiences from the frontline
Hear from those working on DRIs in healthcare settings globally
Presentations on implementation of surveillance systems for drug resistance and usage
Experts from around the world will share their experience of implementing national scale surveillance systems
Panel session: What is the role of RSTMH in the fight against drug resistant infections?
How can drug resistance move from a research to an implementation agenda? What is the role of evidence generation, translation and integration and the sustainable development agenda? Has COVID been a distraction or a help in highlighting DRIs?
Registration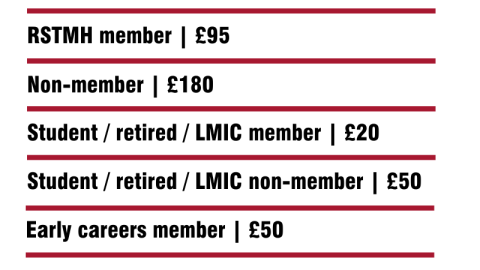 Registration gives you access to the event platform with access to the talks, presentations and resources for three months.
To save money on your ticket today, as well as on future RSTMH events, why not become a member and take advantage of a whole host of membership benefits?
Scientific Committee
Dr Adam Roberts (pictured above) is the Scientific Chair of the Annual Meeting, a Reader in Antimicrobial Chemotherapy and Resistance and AMR lead at the Liverpool School of Tropical Medicine. His research group is currently funded by the Medical Research Council (MRC), National Institute of Health Research (NIHR), UK Research and Innovation (UKRI), the European Regional Development Fund (ERDF) and various charities including the Wellcome Trust and Antibiotic Research UK.
The Scientific Committee is focused on investigating drug resistance in bacteria; particularly of low- and middle-income country origin, and the discovery and development of new drugs to treat bacterial and fungal disease.
The Committee is pictured below, left to right:
Professor Clare Chandler, Professor in Medical Anthropology & Director of the Antimicrobial Resistance Centre, London School of Hygiene & Tropical Medicine
Professor Guo-Bao Tian, Professor, Principal Investigator, Key Laboratory of Tropical Diseases, Sun Yat-sen University
Dr Jyoti Joshi, Head of South Asia, Center for Disease Dynamics, Economics & Policy (CDDEP)
Professor Sabiha Essack, South African Research Chair (SARChI) in Antibiotic Resistance and One Health & Professor in Pharmaceutical Sciences, University of KwaZulu-Natal (UKZN)
Dr Mirfin Mpundu, Director, ReAct Africa

AMR RSTMH event