Topics in Infection 2021
18 June 2021
Virtual event
Register now for the 46th annual Topics in Infection
This annual one-day meeting, now in its forty-sixth year, is held in partnership with RSTMH, Barts Health and Public Health England.
This one-day meeting brings together microbiologists, consultants in infectious disease, infection control nurses and biomedical and clinical scientists to hear updates on recent "hot topics" in all aspects of infectious disease.
Topics 2021 will be an online event and will cover:
Modernisations in health
Advances in parasitology
One Health
Antimicrobial resistance
Delegates will be awarded 5 CPD points from the Royal College of Pathologists.
All talks will available to watch in your own time after the event.
Tickets start at £10.
Speakers
We are pleased to announce our speakers for the event.
Dr Colin Brown, Consultant in Infectious Diseases and Medical Microbiology, National Infection Service, Public Health England
Dr Brown works on Anti-Microbial Resistance and global health strengthening at PHE.
He will talk about gram negative infections.
Professor Simon Draper, Professor of Vaccinology and Translational Medicine, University of Oxford
Professor Draper will be speaking about the malaria vaccine.
The Draper Lab study vaccine-induced immunity, with a particular focus on antibody immunology and human malaria infection. A critical strength of the group is a strong dual focus on preclinical vaccine development in parallel with early-phase clinical vaccine testing and experimental medicine studies.
Professor Eric Fèvre, Professor of Veterinary Infectious Diseases at the University of Liverpool
Professor Fèvre manages a research programme focusing on the epidemiology of zoonotic and emerging diseases predominantly in East Africa.
He will be discussing his research in the field of One Health.
Dr Jenny Harries OBE, Chief Executive, UK Health Security Agency
Dr Harries was previously Deputy Chief Medical Officer for England and has played central roles in the UK's response to COVID, Ebola, Zika, monkeypox, MERS and the Novichok attacks.
She will give an overview of the new UK Health Security Agency and it's aims as well as discussing COVID variants of concern and taking any questions from the audience.

Professor Christine Kreuder Johnson, Professor of Epidemiology and Ecosystem Health and Director of the EpiCenter for Disease Dynamics at the One Health Institute, University of California, Davis
Professor Johnson's research has pioneered new approaches to characterisation of emerging threats and disease dynamics at the animal-human interface in rapidly changing landscapes that constitute "fault lines" for disease emergence, disease spillover and subsequent spread.
Professor Jo Martin, Professor of Pathology, Queen Mary University of London and National Specialty Advisor for Pathology NHS England and Improvement
Professor Martin has very broad experience in healthcare management including responsibility for research and for the training and education of over 17,500 staff. National Clinical Director of Pathology for NHS England April 2013-16, Jo was President of the Royal College of Pathologists from November 2017-2020, and is now National Specialty Advisor for Pathology for NHS England and Improvement.
She will speak about the Carter reforms underway in the NHS.
Dr Debbie Nolder, Molecular Lead BMS, PHE Malaria Reference Laboratory & Diagnostic Parasitology Laboratory.
Dr Nolder will be giving an overview of parasitology in the UK with a focus on diagnostic methods.
"I always enjoy and look forward to the Topics in Infection meeting... a great spread of speakers and fascinating topics."

Professor Jo Martin, Past President, Royal College of Pathologists
Registration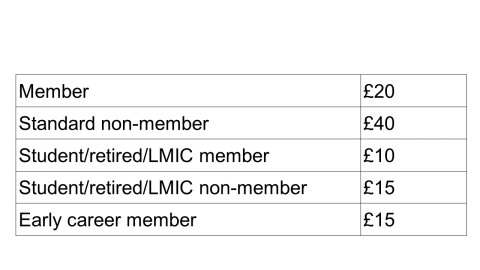 For group bookings or to request an invoice, please email adriana [dot] thursby [at] rstmh [dot] org.
RSTMH event