Student Essay Prize Winner announced
We're happy to announce the winner of our 2021 Student Essay Prize, now in its third year.
This year's prize focused on "Universal Health Coverage". We wanted to hear a personal perspective on the theme.
The Prize is open to all full-time students studying global health as a degree or any degree with a component of global health. They can be based anywhere in the world.
Burden of a "universal" healthcare system: The story of a common man from Sri Lanka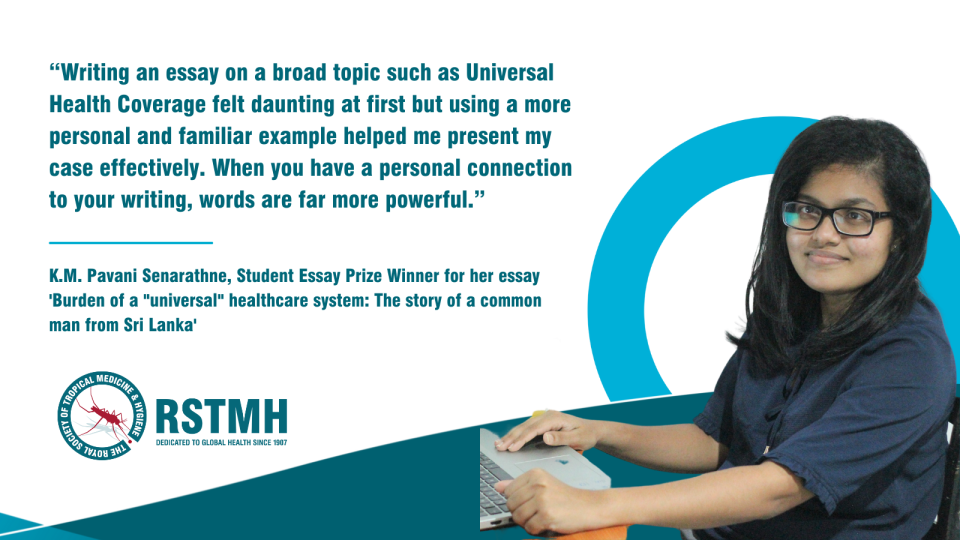 The winning essay was by K.M. Pavani Senarathne who wrote about the healthcare system in Sri Lanka, from the perspective of the common man.
Pavani is a M.Phil. Student at the Department of Microbiology, Faculty of Medicine, University of Peradeniya, Sri Lanka. She summarised her essay below:
"Universal Health Coverage is considered to be a human right but many people are not fortunate enough to enjoy this right due to various reasons. Sri Lanka, a small island situated in the Indian Ocean is renowned for its free health policy which covers all citizens. Even though the system itself has several drawbacks, Sri Lanka has gained international recognition for near universal health coverage.
"The familiar case study that I have selected to address the issue, describes healthcare facilities available to an average man who is suffering from several non-communicable diseases and examines the obstacles that hinder him from fully enjoying the universal healthcare services available to in the country. The rapidly increasing number of patients with non-communicable diseases poses a threat to the capacity of the health care system. Therefore, greater allocation of funds for healthcare and public friendly and responsive health policies are needed to revitalize the healthcare system of Sri Lanka."
The prize for the winning essay is £200, student membership for a year and the opportunity to have their essay published in one of RSTMH's scientific journals.
Highly Commended
Favour Onwudiwe and Abdulmumuni Samuel Aliyu were both awarded Highly Commended.
Favour Onwudiwe wrote about Universal Health Coverage in Switzerland.
She summarised her essay below:
"The World Health Organization originally proposed universal health coverage (UHC) during the Alma-Ata Declaration in 1978. For nations attempting to attain UHC, three primary goals are financial risk protection for disease, equal access to quality and essential healthcare services, and equal access to medications and vaccines. Switzerland has managed to create one of the world's strongest healthcare systems with nearly 100% of its population having access to healthcare, high-quality service delivery and one of the world's greatest life expectancies.
"However, its main current weakness in achieving UHC stems from its capitalist ideals which have contributed to a very regressive healthcare payment system, resulting in unequal access to healthcare services. Like many EU countries, Switzerland faces a healthcare cost-containment crisis that could potentially jeopardise its ability to achieve UHC in the future."

It is a known fact that within Switzerland, there are large differences in premiums inter and intra-cantons which leads to unfair differences in health spending and supply of health services ultimately leading to unequal access to healthcare – one of the components of UHC."

Favour Onwudiwe

Abdulmumuni Samuel Aliyu wrote about Universal Health Coverage in Nigeria.
He summarised his essay below:
"Whilst there has been an emphasis on implementing healthcare reforms across the globe, Universal Health Coverage (UHC) allows countries to scale up access to quality and affordable health care that meets the needs of people without exposing them to financial hardship.
"Nigeria is commonly recognised as Africa's most populous country with a population of around 200 million people and a GDP of $495 billion. Even though a policy platform has been established for achieving UHC, there have been several drawbacks which have affected the overall health system performance.
"The purpose of this essay is to promote equity in healthcare access as this will improve health outcomes for Nigerians and by extension all aspects of the country's growth and development."
The best way to end extreme poverty and increase equity and shared prosperity is to make sure the Universal Health Coverage (UHC) policies are legitimised and implemented in all countries. Let's all collectively commit to doing that."

Abdulmumuni Samuel Aliyu
Our Student Essay Prize in an annual award and will open again for applications towards the end of the year.