Applications for 2022 grant programme now open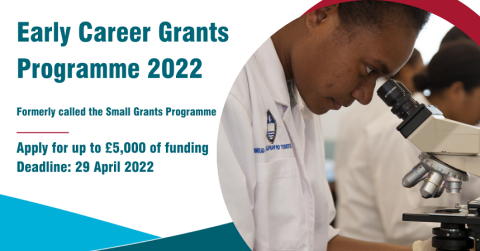 The RSTMH Early Career Grants Programme – formerly called the RSTMH Small Grants Programme – opened for applications today at 9am (GMT) 1 February 2022. The programme is still for those early in their research careers, and for whom the grants represent an exciting and important opportunity.
Nothing else about the programme has changed and we hope the new name better reflects those awarded and the impact of the awards on the individual and their careers.
The Early Career Grants Programme 2022 is open for applications from early career researchers and global health professionals based anywhere in the world, who have not had research funding in their own name before.
They can apply for a grant of up to £5,000 (GBP) to deliver a project over one year. The projects can be on any topic related to tropical medicine and global health, from across the research spectrum of lab, translation, implementation and policy. The deadline to apply is Friday 29 April at 17:00 GMT.
"We are delighted to open applications for the Early Career Grants Programme, which we hope will encourage and inspire the next generation of global health leaders and innovators to take their first steps in research."

Tamar Ghosh, RSTMH Chief Executive
We will be running a webinar for anyone who wants to find out more about the Early Career Grant application process on 24 February at 13:30 - 14:30 (GMT).
Find out more about the Early Career Grants programme here: rstmh.org/grants