The world needs science, and science needs women and girls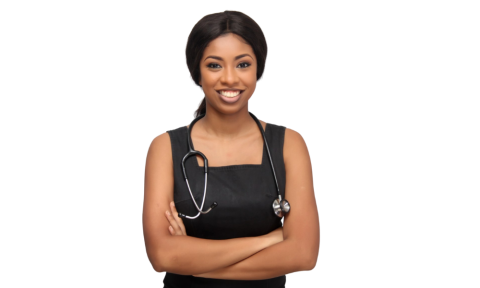 Today on International Day for Women and Girls in Science, we want to recognise women's contributions in science, smash stereotypes and defeat discrimination against women and girls in science.
Women have led ground-breaking research into public health, vaccines, treatments and innovative technology, and been on the front lines of the COVID-19 response as scientists, healthcare workers and more.
Yet, the gender gap in science and technology holds women back. While 70% of health and social care workers are women, they are paid 11% less than their male counterparts.
In recognition of the women in our network and the amazing work they are doing, we interviewed Dr Cassandra Akinde, one of our Student Ambassadors. Cassandra is a medical practitioner from Nigeria, who is now completing her MSc in Tropical Medicine and Hygiene at the London School of Hygiene & Tropical Medicine in London.
The COVID-19 pandemic has demonstrated the ingenuity of women researchers and their critical role in different stages of the fight against COVID-19, from advancing knowledge on the virus, to developing technics for testing, and finally, developing the vaccine. Who is your female scientist role model and why?
"When I was a little girl, I became fascinated with Alice Ball`s story of being the first woman and first African American to receive a master's degree from the University of Hawaii. She also became the university's first female and African American chemistry professor at just 23 years old.
"Her contribution to the treatment of leprosy in the 20th century as a black woman and her journal publications as an early career researcher are the reasons that I look up to her as a role model and my STEM hero. Her story motivated me to read about other women scientists who made an unforgettable mark in STEM and inspired me to do the same.
Studies have shown that the COVID-19 pandemic has had a significant negative impact on women scientists, particularly affecting those at the early stages of their careers, what do you think can be done to further support women scientists at the beginning of their careers?
"I think it starts first with family support and encouragement. Many girls grow up in a household where they are not encouraged to pursue their dreams in STEM education, but rather limit their choices to certain fields and occupations which society has made acceptable for girls and women. They should be encouraged, motivated with success stories and supported at that stage to go for their chosen course of study in science.
"Secondly, early career support such as mentors, networks and professional development and leadership opportunities can go a long way in encouraging more women to pursue careers in science and innovation. Programmes to recruit women scientists after graduation, scholarships targeted specifically for female scientists, coupled with a defined career trajectory, and mentoring programmes to provide professional support can attract and retain more women scientists.
"Thirdly, we need to engage men in key leadership and decision-making positions to share the responsibility equally at university departments and research institutes to combat gender biases and stereotypes, and create a friendly work environment for women scientists. For instance, in academia, women scientists are often lecturers and assistant researchers, but very few are professors. While in research institutions, women are rarely research directors or principal investigators in major studies.
"Finally, the implementation of gender-friendly policy frameworks, such as the provision of child care facilities at the workplace or career re-entry programmes to encourage women scientists to resume their careers after taking a break to start a family, can contribute to women scientists embracing science professions, ultimately narrowing the gender gap in health research. This can also be reinforced by the implementation of gender-sensitive promotion policies to ensure that women can advance in their careers.
Diversity in research expands the pool of talented researchers, bringing in fresh perspectives, talent and creativity. How do you think diversity in science can be promoted?
"Diversity can be encouraged by creating support networks and mentorship platforms for the underrepresented scientists across Africa, Latin America and South East Asia, thus accelerating their career progression pathways and their overall professional development.
"It can also be encouraged by recognising the work of underrepresented scientists by valuing their achievements, giving them respect, and crediting them appropriately. Promoting the work of marginalised scientists and nominating them for leadership positions and awards are important steps in countering the imbalance observed across STEM disciplines.
"Finally, financial aid can reduce the barriers for underrepresented scientists pursuing and engaging in scientific careers and give them equal opportunities to advance their careers. Scientists and scientific organisations need to create and promote financial aid opportunities that support the underrepresenting scientists in career development and networking events.
What message do you have for young girls interested in science?
"Do not limit your imagination, your curiosity, or your creativity. It is your place in the world; It is your life. It is your prerogative.
"Do not be afraid. Go on and do all you can with it, maximise your potential and become the best version of yourself you can be."
Blogs