World Water Day 2020
Helen Hamilton is a Senior Policy Analyst on Health and Hygiene at WaterAid UK and a member of RSTMH's Policy and Advocacy Committee.
How can we ensure everyone can wash their hands with soap and water?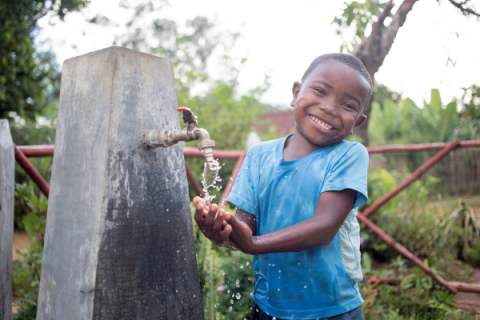 With the concerns over SARS-CoV-2 coronavirus at the front of our minds- we're seeing unprecedented global political attention on the importance of handwashing and the crisis we face in lack of access to clean water, decent toilet and hygiene promotion.
A best buy in health
Handwashing with soap is one of the most cost-effective public health interventions in reducing the burden of global infectious disease [1] including the spread of COVID-19. Critically, it is a sustainable way to improve the health and dignity of millions
Handwashing with soap is out of reach for billions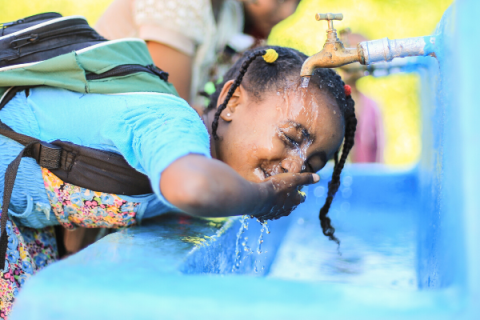 In low and middle-income countries many people face a dual challenge; they do not have anywhere to wash their hands and knowledge on how and why to wash hands properly is not widespread. This creates a higher risk of illness and disease transmission, including the spread of the coronavirus.
The data makes for tough reading!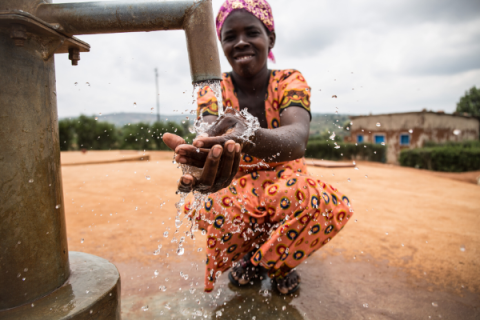 40% of households globally lack handwashing facilities with soap and water [2]. Nearly three-quarters of households in Sub-Saharan African lack basic hygiene facilities to wash their hands with soap and water in their homes[3]. Only 19% of people globally practice handwashing with soap after using the toilet despite hands being the principal carriers of disease-causing germs [4].
A neglected public health emergency
Even before the COVID-19 crisis, we faced a long-ignored public health crisis with Two billion people lacking access to safe water and existing services under threat from climate change impacts. Access to clean water, decent toilets and hygiene facilities and health promotion is critical to the resilience of vulnerable communities during any crisis. Whether it's climate change, water scarcity or a global pandemic, without basic services vulnerable communities cannot be resilient.
Resilience through strong systems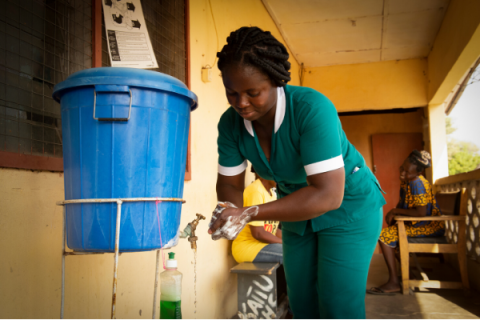 In the face of increasingly severe climate disasters, the potential for spread of disease caused by flooding, and people resorting to poor quality water resources during droughts is expected to rise [5]. The theme for World Water Day this year is 'Water and Climate Change – Accelerating Action': Well managed, sustainable water, sanitation and hygiene (WASH) services will not only form an important component of the COVID-19 response- they will support communities to strengthen their resilience to other outbreaks and challenges, such as climate change in years to come.
Coordinate, integrate and invest
To achieve this, improved co-ordination across government ministries and sectors is essential - with health, water utilities, environment, education and infrastructure working together, to build shared ownership in basic services and improve access to sustainable WASH.
People do not live their lives in siloes and so programmes need to respond accordingly. We need to promote integration between sectors and identify and support the use of promising entry points for hygiene promotion and other WASH interventions – such as schools or routine vaccination programmes.
Finally, we need to invest - to put in place domestic and international financing that supports and incentivises these integrated approaches.
The role of WASH and especially handwashing in the global development agenda has long been neglected. Will now be the time for change?
Find out more about WaterAid's work:
How can we ensure everyone can wash their hands with soap and water, to protect lives from COVID-19?
Hygiene promotion through immunisation
Coordinate, integrate, invest: how joint child health and water, sanitation and hygiene interventions can deliver for your country's future.
[1] Jamieson D. Diseases Control Priorities in Developing Countries. . University Press, Oxford 2006
[2] WHO/UNICEF (2019). Progress on household drinking water, sanitation and hygiene, 2000-2017. Special focus on inequalities.
[3] https://washdata.org/report/jmp-2019-wash-households
[4] Freeman M, Stocks M, Cumming O, et al. (2014). Hygiene and health: systematic review of handwashing practices worldwide and update of health effects. Trop Med Int Health. 19(9): 906-16.